Window cleaning West Bridgford
Are you searching for a professional window cleaning West Bridgford company? Look no further than Shiny Windows!
We are a trusted and reliable provider of top-notch external and internal window cleaning services for residential and commercial properties in West Bridgford, Nottingham, and the surrounding areas.
We're committed to delivering exceptional customer service. Don't just take our word for it, see what our happy customers are saying in their reviews before scheduling your next window cleaning with us.
Hassle-Free Quote
To get started, simply fill out our quote request form and let us know your specific preferences so we can customize our service to meet your needs.
Once we receive your form, we'll provide you with an estimate based on the details you've provided. If you decide to move forward with our service, we'll schedule a specific day and time for our cleaners to visit your house.
Once the job is complete, you can conveniently and safely make your payment online or in cash.
Satisfaction Guaranteed
Our team is highly skilled, insured, and has years of experience in window cleaning and liability insurance, so you can trust us to clean your windows safely and effectively.

We use purified water, which is safe and eco-friendly and ensures a streak-free window cleaning without harsh detergents.

Booking our service is easy, and you can do it online or by phone. We're available all day to work around your schedule.

Our service has a reputation for being trustworthy, effective, and well-liked by our clients. We take utmost care to ensure complete satisfaction with the result.

We provide excellent value for money, and you'll get a discount if you choose both inside and outside window cleaning.

We use various techniques to maintain exceptional standards and clean all frames, glass, sills, and doors as part of our regular service at no extra charge.

Our team uses a water-fed pole system to clean hard-to-reach windows, eliminating the risk of accidents and property damage.

We deliver outstanding customer service and take pride in being honest and timely.

Our window cleaning prices in Nottingham are affordable and competitive, so you won't have to worry about hidden fees or surprise charges.
We are equipped to clean a wide range of buildings, including:
Accreditations and Achievements
What Our Window Cleaning Service Offers You
External Window Cleaning
At Shiny Windows, we take great pride in using cutting-edge equipment and purified water to deliver top-notch residential window cleaning services, ensuring your satisfaction.
Our team of experienced window cleaners uses a high-reach water-fed pole system, enabling them to reach heights up to the fourth floor of a building without ladders. This system is also useful when cleaning hard-to-reach roofs for conservatories, skylights, and windows over extensions, reducing the risk of accidents.
We filter tap water using a special process that removes impurities and minerals, ensuring that it dries without leaving any streaks or marks on your windows. This method also prevents mineral buildup on your windows over time, which can cause damage or reduce their lifespan.
Our eco-friendly window cleaning method is safe and effective for all your external window cleaning needs. We strive to ensure your satisfaction by providing high-quality and reliable service that exceeds your expectations.
Internal Window Cleaning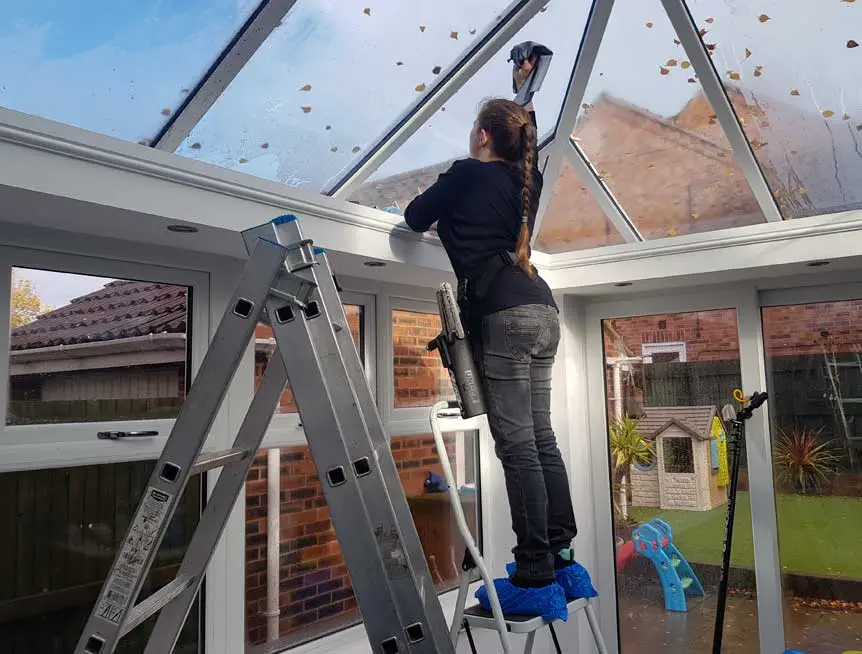 We also provide an internal window cleaning service to complement our outside window cleaning service. After we clean the outside windows, it's common for smears, smudges, and fingerprints to become visible on the inside, which we can take care of as well.
We use the traditional window cleaning method with a solution and squeegee to clean the inside windows, ensuring a smear-free finish. For higher windows, we use special ladders or the Unger Indoor Window Cleaning Kit, which includes an extension pole with microfiber pads and a swiveling pad head.
We're friendly and flexible, ensuring no disruption to your daily routine. Many of our clients choose to have their inside windows cleaned at least once a year for various reasons, such as difficult-to-reach windows or a lack of the proper finish.
We're dedicated to providing quality service and taking great care to ensure that your internal windows are spotless without any damage. Trust us to leave your windows looking as good as new.
Contact Us: Ways to Get in Touch
Book our window cleaning service today! Please feel free to call Aggie directly at 07826852378, 01156775859 or use our convenient online contact form. We're available 24/7 and happy to answer any service, price, and scheduling questions.
At our company, we don't just specialise in window cleaning, we also offer top gutter cleaning service. Clogged gutters not only can it cause expensive damage to your property, but they can also create an unhealthy living environment due to dampness and insect infestations.
Our team uses a powerful vacuum system for gutter cleaning that allows us to clean your gutters from the safety of the ground without the need for expensive equipment or scaffolding. We can even reach gutters above conservatories, extensions, garages, and outbuildings.
Are you tired of looking at dirty and worn-out fascia and soffit on your property in West Bridgford? Our fascia & soffit cleaning service is just what you need to improve the exterior look of your property.
We use a safe and efficient Reach & Wash system with pure water to clean your fascias, which complies with health and safety regulations. We recommend cleaning your fascia & soffit twice a year to maintain their good condition.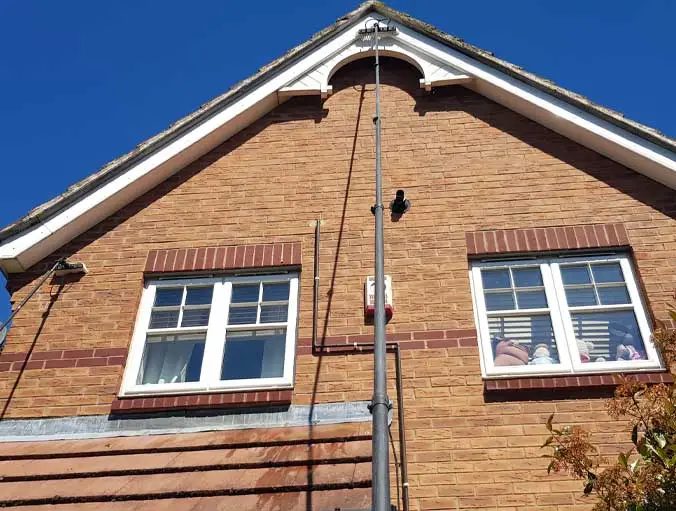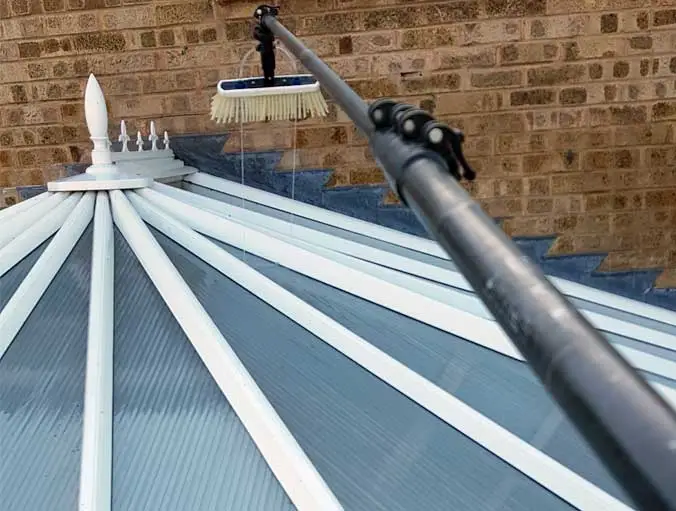 Additionally, Shiny Windows also provide professional conservatory and roof cleaning service.
Over time, algae, moss, and dirt can accumulate on your conservatory roof and frame, spoiling its appearance and reducing its lifespan. We take safety and efficiency seriously when it comes to roof cleaning of your extension.
That's why we use specialised professional equipment to ensure that the job is done right without causing any damage to your property or our cleaners.
We're committed to providing you with high-quality service that you can trust, so you can relax and enjoy your sparkling clean sunroom.
Different types of roofs require various methods of maintenance. To eradicate persistent algae, we utilize a soft brush attachment on a pole to gently scrub it off the roof.
You'll be pleased with our work, and your friends and family will be impressed by our sparkling-clean garden room for years to come.
COVERING ALL OF NOTTINGHAM
We provide residential window cleaning services in all postcodes from NG1 to NG16, including The Meadows, Sneinton, Ruddington, Clifton, Tollerton, Cotgrave, and Radcliffe On Trent.