Book Our Conservatory Valet Service Today
Shiny Windows offers fully insured, professional conservatory cleaning services in Nottingham and surrounding areas. Contact us today for a free quote.
Is your conservatory showing signs of wear and tear, with a noticeable buildup of algae, dirt and debris, or has it just been impacted by daily pollutants? A conservatory can add extra space and enhance the value of your property, appearing stunning when newly installed. However, its appearance can rapidly deteriorate due to exposure to elements like the sun, wind, rain, dust, mould, mildew, algae, and pollution.
Conservatory manufacturers advise regularly cleaning your extension to maintain its appearance and performance and prevent costly repairs caused by long term damage. Our local conservatory cleaners near you take great care to keep your conservatory in top condition all year round, serving the entire Nottinghamshire area.
Conservatory Cleaning Inside and Outside
We provide a full valet service for your inside and outside conservatory. Our team uses the latest techniques and equipment to ensure that every nook and cranny of your conservatory is left spotless and streak free. We even polish all glass panels to give your conservatory a fresh look.
Our cleaning solution biocide treatment eliminates algae, preventing it from returning and ensuring your conservatory stays cleaner for longer.
For outside cleaning, we use the most effective form of window cleaning – water fed pole equipment with purified water. It allows us quickly and efficiently clean hard-to-reach areas of your external conservatory. We use traditional methods like squeegees, buckets, microfiber cloths, and ladders for interior cleaning, producing outstanding results.
Our experts will clean all aspects of your conservatory, including:
We clean all styles and types of conservatories in Nottingham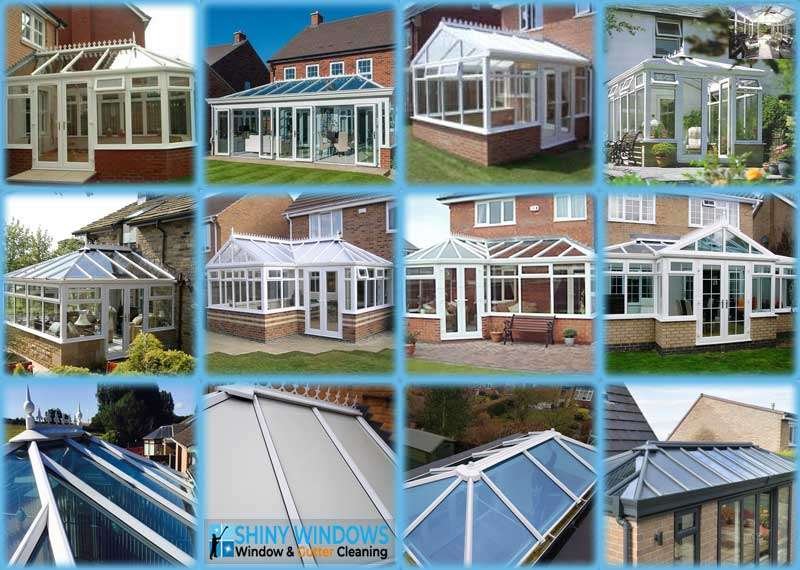 Conservatory roof cleaning
Shiny Windows offers expert conservatory roof cleaning services throughout Nottingham and its surrounding boroughs. Conservatories are delicate structures that require significant care to maintain their appearance. However, they can be damaged easily and are costly to fix.
When cleaning the roof, we don't use a pressure washer and harsh chemicals because they can break rubber seals around the glass and cause leaks and other issues. We use a safe water-fed pole system with purified water and high-quality cleaning products and agents for a deep clean. Reach & wash technology uses a gentle water flow to protect your conservatory roof from damage.
Different types of conservatory roof materials require specific cleaning methods. For example, we use soapy water and a soft-bristle brush when cleaning a glass roof. We don't use strong chemicals that might harm special coating on certain glass surfaces, such as self-cleaning glass.
Whether your roof is glass or polycarbonate, our team has the expertise to clean it thoroughly, leaving it free of moss, algae, dirt, and debris. We use specialist equipment such as conservatory access ladders and extra-large step or platform ladders to clean hard-to-reach areas safely. Our thorough approach will leave your conservatory roof looking perfectly clean.
Keeping your conservatory looking pristine and functioning properly requires regular window cleaning. Over time, grime and dirt can accumulate on the windows and block natural sunlight from entering the space. By scheduling regular cleaning appointments for your conservatory windows and upvc frames you can ensure that it remains clean, safe, and inviting.
The price of conservatory cleaning varies depending on the size of the conservatory and the amount of cleaning required, such as the roof only or the whole structure. If you need your conservatory's roof cleaned, our price is approximately £8-12 per roof panel.
However, to get a more accurate estimate for cleaning your conservatory outside and inside, please get in touch with us over the phone. We provide a range of services, from a simple roof cleaning to a thorough deep clean, to meet the needs of all our clients.
Here are our price ranges for conservatory external and internal cleaning:
External:
Small (up to 10 square meters): £60-£90

Medium (10-20 square meters): £100-£140

Large (over 20 square meters): £140-£180
Internal:
Small (up to 10 square meters): £90-£140

Medium (10-20 square meters): £130-£160

Large (over 20 square meters): £180-£220