Tru
ste

d Gutter Cleaning Service for Your Home or Business
Protect your home or business with our top notch gutter cleaning service in Nottingham. Our operatives have the experience and expertise to correctly, quickly, and efficiently complete gutter cleaning for residential and commercial properties. Our experienced operatives use the latest techniques and equipment to ensure a great job.
Investing in our gutter cleaning services can avoid costly repairs
and protect your property from water damage. No job is too big or small for us – we take pride in caring for every property we work on. With our commitment to customer satisfaction, you can trust us to deliver efficient service.
Efficient Gutter Cleaning with Advanced Technology: No Ladders Needed!
We use the latest technology to clean hard-to-reach gutters, including those above conservatories or four-story buildings. Our high-powered vacuum system is practical and safe for your property and our operatives. Unlike other cleaning methods, it doesn't require ladders or additional equipment, which reduces the risk of slips and falls.
We stand behind the quality of our work and offer a six-month guarantee on our gutter cleaning services. This gives you peace of mind and ensures that your gutter system will remain free of clogs for longer.
Request a Quote
Our gutter cleaning form is all you need. Please enter your postcode and fill in your details or give us a call or send a message. One of our experienced gutter cleaners will come to inspect your gutter system and provide an excellent job on the scheduled day.
Our Nottingham gutter cleaning service is the best in the area. For further queries and assistance, our friendly customer service team is available to answer any questions.
Why Gutter Cleaning Matters for Your Property
Clogged gutters and downpipes are the primary reasons for water damage in the UK. Gutter cleaning is often overlooked but crucial for the overall health and integrity of your property.
Gutters are designed to channel rainwater away from the roof, wall, and foundation of a building, protecting the home's exterior and landscaping. However, accumulated leaves, moss, and dirt can often clog gutters and cause them to overflow during rainstorms, leading to the following consequences:
Masonry, brickwork and foundation damage

A leaking roof or basement

Dampness, mould growth or pest infestation
Regular Gutter Cleaning for Nottingham Properties
Protect your property and save time and money with our regular gutter cleaning service. Sign up for our convenient service and we'll send you a reminder message to schedule your next visit.
Fall or spring regular gutter cleaning will keep your gutter and downpipe in good condition and free of debris all year.
Regular gutter maintenance can extend the lifespan of your gutters and roofing.
Cleaning the gutters is necessary to protect your property from costly repairs and leaking or overflowing.

Save time and hassle with our regular service. We will notify you the week before we come to clean your gutterings so you can plan accordingly.
How Often Should You Clean Your Gutters?
Gutter cleaning is generally necessary twice yearly – in the spring and fall when leaves have fallen. But if you have overhanging trees, it's highly recommended to clean your gutters more frequently.
Don't let blocked gutters ruin your property – call us 📞07826852378 for professional domestic and commercial gutter cleaning today!
Expert Gutter Cleaning for Commercial Properties
Are you in charge of maintaining the exterior of your commercial property? If so, you know it's essential to keep everything in top condition – including your gutters. Dirty or clogged drains can cause problems for your business, such as flooding in extreme cases.
It's essential to keep your gutters clean to prevent these issues. That's where our commercial gutter cleaning services come in. Our gutter cleaning company specialises in providing professional gutter cleaning services to commercial properties of all types. Our team will clean and maintain your drains to keep water from damaging your commercial property.
In addition to gutter cleaning, we also offer various other exterior maintenance services, including conservatory roof cleaning. We're committed to helping you keep your commercial property's exterior in top condition.
So if you need professional gutter cleaning for your commercial property, don't hesitate to call us. Our Nottingham based gutter cleaning staff is here to help!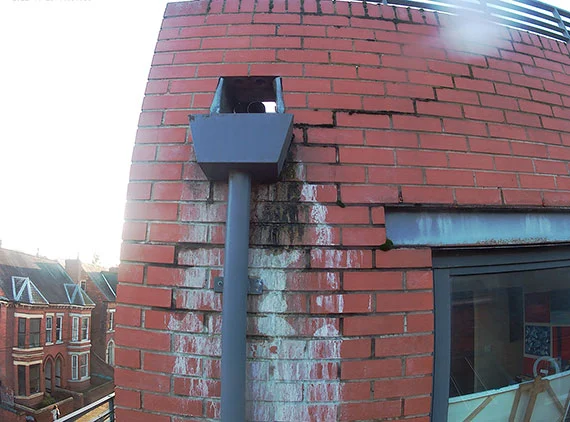 Gutter Cleaning for Schools, Hospitals, and More
Our commercial gutter cleaning service is suitable for properties up to four stories high that need maintenance. After servicing your commercial property's gutters, we will provide you with a free of charge inspection report that includes before and after photos and details about the work carried out. This report will help you understand the level of service provided and the condition of your gutter.
Retail spaces
Office buildings
Apartment buildings
Hotels
Restaurants
Schools
Hospitals
Supermarkets
Fascia and Soffit Cleaning for a Brighter Property
Fascias and soffits cleaning services can help improve the appearance of a property's exterior by removing dirt, grime, and pollutants that accumulate over time. This can restore the fascia boards and soffits to their original condition. A deep cleaning service helps protect the material from further damage and discolouration, preventing mould and mildew growth. We use a water-fed pole system and a strong natural degreasing agent for uPVC cleaning.
Pricing for Gutter Cleaning Services in Nottingham
Are you looking for the best gutter cleaning prices? Look no further! Our expert team is here to offer the best deals for gutter cleaning.
We know what it takes to keep your gutters clean and functioning correctly, so you can rest assured that you're getting the best possible value for your money. Our average gutter cleaning price in Nottingham is about £70. Difficult to access and the size of the property can also impact gutter cleaning costs.
We believe in being upfront and honest with our customers, so we don't play games with our prices. What we quote is what you pay. There are no hidden fees or extras; our minimum call-out is only £45. Contact us today for a free estimate.
Residential Gutter Cleaning Prices
Gutter Cleaning Bungalow – Price from £45
Gutter Cleaning Semi-Detached – Price from £55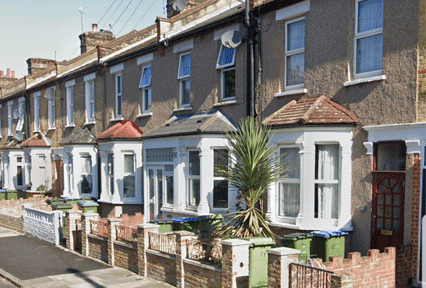 Gutter Cleaning Terrace – Price from £65
Gutter Cleaning Detached – Price from £75
Book Your Cleaning Quick and Easy
It's easy to make an online reservation for gutter cleaning – just let us know when and where, and our trained cleaning specialists will take care of the rest.
Our gutter cleaning equipment is designed to quickly and effectively perform gutter cleaning. A gutter vacuum system will easily remove debris from your guttering and downpipes, including leaves, twigs, dirt, etc.
Once the professional cleaners arrive, the service typically proceeds as follows:
Our technicians will start by inspecting your gutter systems to assess their condition. We will let you know if there is any problem and if a gutter repair service is needed.
They will then use a specialised gutter vacuum system, which can reach the fourth floor of any building, to clean your gutters.
After cleaning, they will take pictures of your clean gutters using a gutter inspection camera at the end of a pole.
When the service is complete, your gutters and downspouts will be clear of blockages, ensuring smooth water flow. The technician will be happy to show you "before" and "after" images so you can see the results.
Frequently Asked Questions
We use both methods for removing debris in our services.
High-Level Vacuum System
We use the Predator gutter vacuum, a powerful industrial machine with three motors. Our powerful machine makes gutter cleaning quick and easy without creating any mess. Its ability to reach every corner and remove heavy debris makes it more effective than traditional methods. Its precision and efficiency make it the best choice for keeping your gutters clear. We can use the vacuum to clean gutters on buildings up to four stories high, including extensions and conservatories.
Cleaning Gutters by hand
We also remove debris using tools such as a trowel, scoop, and ladder. It is effective for smaller properties or removing small debris and allows technicians to inspect the gutters closely. However, reaching tight or hard-to-access areas can be time-consuming and challenging. Therefore, we usually recommend our gutter vac system. We have found that combining these methods is the most effective way to clean gutters.