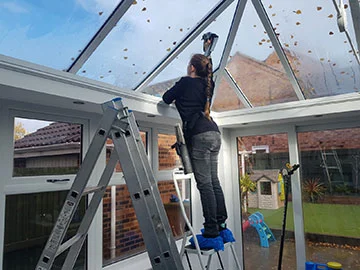 Professional Internal Window Cleaning Services
At Shiny Windows, we specialise in providing professional internal window cleaning services to both residential and commercial clients. We employ only the most advanced cleaning methods and state-of-the-art products to guarantee that your windows are left spotless. Utilising eco-friendly cleaning solutions, we ensure that the health and well-being of you and your loved ones are never compromised.
Final Inspection Guarantees Satisfaction
Our experts commence by comprehensively evaluating the inside windows to be cleaned and identifying any areas that require extra attention. We eliminate accumulated grime and dirt from the internal glass and frames using specialised tools and specially formulated cleaning solutions.
Once the cleaning process is finished, we subject each window to a final examination to ensure that they meet our strict quality standards. This commitment to attention to detail and excellence sets us apart from our competitors and guarantees our customer's complete satisfaction with the results.
Affordable Interior Window Cleaning Packages and Scheduling
Additionally, we provide adaptable scheduling and reasonably priced packages from £45 to meet your home window cleaning requirements. Trust in our company to exceed your expectations and deliver spotless windows.
Frequency of Inside Window Cleaning
We advise cleaning the interior of your windows at least once every three months. You should clean your windows more frequently if you live close to a construction site or in an area with high pollution levels. And also if you have pets or kids because of an increase in fingerprints and smudges on the glass.