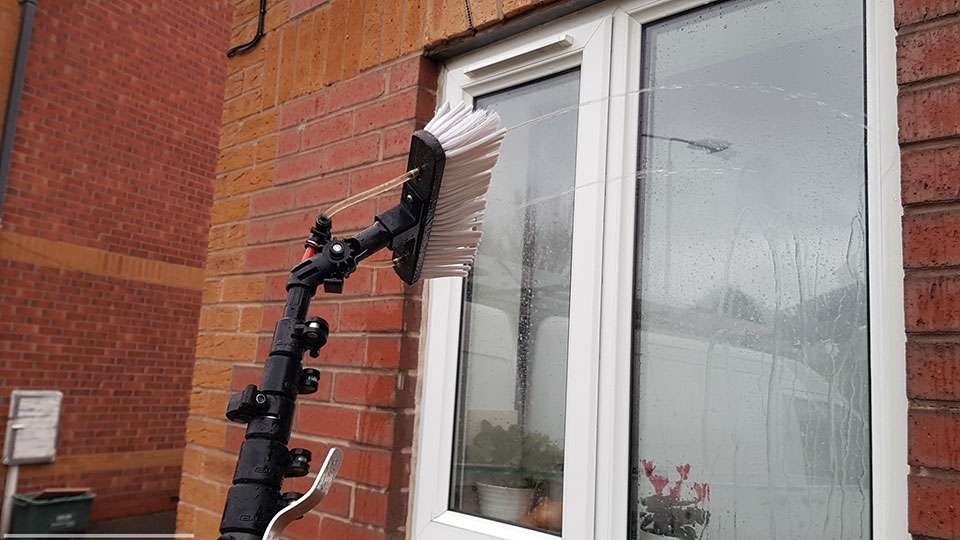 Any of the water fed pole system transportation methods shown above will help get you started!
Many established businesses use all four methods of transportation, but YOUR decision will depend on many different factors, including:
-What type of window cleaning work you have.
-Do you operate as one person or as a window cleaning team?
-Whether you're living in a hard or soft water area.
-Your business plan and your financial budget.
Please note: If you are living or working in a hard water area, then the overall cost of demineralising water will be a little more than it would if you were living in a soft water area.

How have water fed pole systems transformed the window cleaning industry?
Following the government health and safety, work at height regulation which came into force in 2005.
"Every employer shall ensure that work is not carried out at height where it is reasonably practicable to carry out the work safely otherwise than at height."
Benefits of water fed pole system:
– Safety – eliminating the need for ladders
– Deliver less disturbance and more privacy for your customers upstairs or past the first floor
– Provide an opportunity for window cleaners to increase their work and annual income significantly.
– Quicker and more efficient than traditional methods, allowing the window cleaner to cover more work in less time, take on new work (such as tall buildings, schools, offices, etc.) thus increasing annual income.
Of course, when you are using water fed pole systems for the first time, there will no doubt be a period of adjustment in getting used to the way they operate.
 Before making any final decisions, it is essential to carefully consider which water-fed pole system would be best suited to the needs of your window cleaning business.
Don't make the mistake of spending your hard-earned cash on a water fed pole system that is unsuitable for your work needs and finances. These are just some of the many problems we have heard from window cleaners who are unhappy with their water fed pole systems.
-I bought a Water-Fed Pole System, but it does not produce enough water to keep me working throughout the day.
-The Company I used did not fit a correct electrical power system in the vehicle, and I constantly ended up with a flat vehicle battery.
-The equipment and hoses are driving me insane because they are so heavy to drag around the building and I always have to stop to undo twists and kinks.
-I have invested a considerable amount of money in a Water Fed Pole System that looked smart and hi-tech. Only to find that it is expensive to maintain and that I could have purchased a system that does the same or even performs better for half the price.
-I bought a cheaper water fed pole system and my business doubled in a few months, but then I discovered that the system I purchased could not be upgraded to handle the increased work.
-I decided to go for a 500-litre water-fed pole system but was disappointed to receive a weighty tank that takes up all the space in my van, leaving very little room for other equipment.
-I bought a Water Fed Pole that seemed to be a bargain, but I have found it to be too heavy to use.